Using black in the makeup is an art and you have to admit it.  If you think that makeup is as easy as putting on some eyes shadow on the eye with a brush, you are wrong. The technique to perfect eye makeup is applying the right amount of eyeshadow and blending it well so that it looks smooth on your eyes.
These days there are tens of ideas on how to apply makeup and how to apply eyeshadow but when it comes to following some particular makeup idea you must follow the steps to get some result. I am sharing a tutorial on how to do pink Smokey eye makeup with you, I hope you will enjoy it.
Things Needed for eye makeup:
Light black and dark black eyeshadow palette
An eyeshadow kit with rosy pink eyeshadow
Mascara
Eyeliner
Concealer for covering the blemishes
Some powder glitter in microform with gel applicator
Some shades of violet along with the blue
Some fine brushes for the application are also required along with a pencil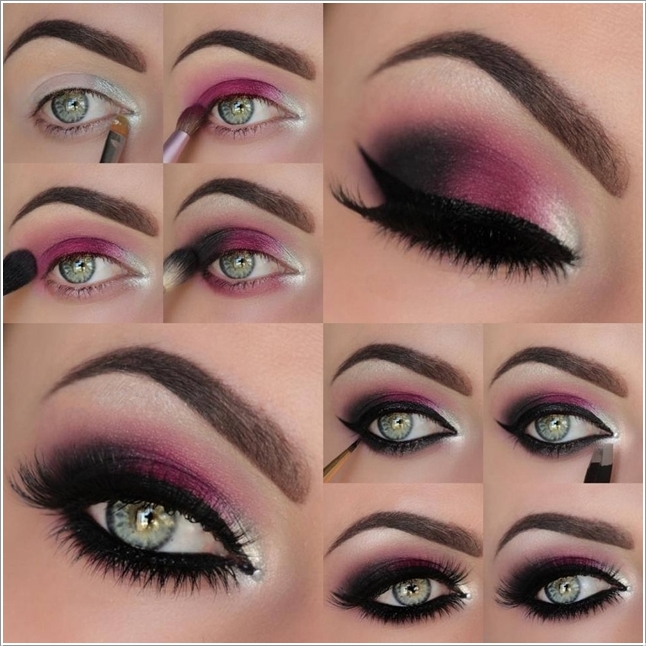 Tutorials on how to do pink  Smokey eye makeup:
Apply a small amount of concealer all over the eyes, onto upper and lower eyelid to hide flaws and cover the freckles if there are any. The concealer will also cover the blemishes very gracefully.
Now apply the base coat onto the eyes for you just need white eyeshadow possibly one with the matte look.
Now apply rosy pink on the half area of the eye until you reach the corner of the eye. In other words, the third quarter of the eyes should be filled with the rosy pink eyeshadow.
Apply smokey black eyeshadow on the corners of the eyes. Apply a small dash of glitter there.
Now draw a line with the eyeliner and use mascara to curl the lashes. Your makeup is ready.
I hope you have enjoyed this guide. Well, this makeup is not very complicated if you do it in steps, just make the corners first and shape up the lines around upper and lower lids for getting perfect in the final results. Rest will go very smoothly as long as you know how to handle shades on the eyes without shaky hands. I always use lighter glitter on the lower parts of the eyes because it creates a special effect, you can do the same for increasing the beauty of shades.